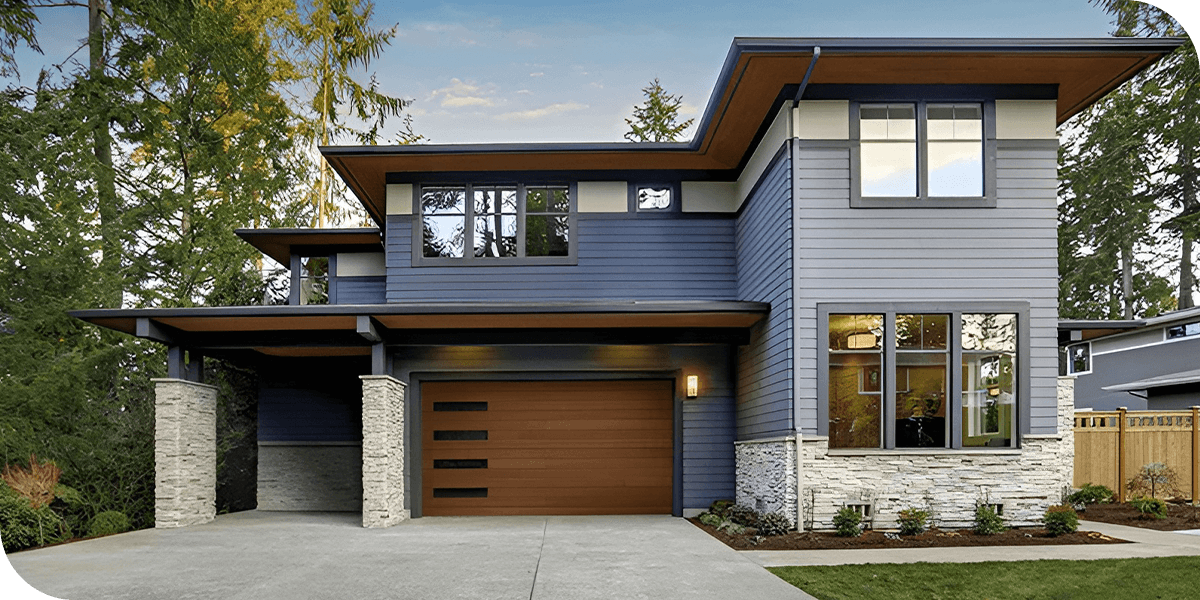 There are numerous garage door styles, which can make choosing the right garage door for your home a bit more complex than you may expect. The ideal garage door style hinges on your home's architecture and personal preferences. By looking through the various styles of garage doors and considering each one, you can make an informed decision.
In this comprehensive guide to garage door styles, we look into garage door models and designs to help you select an option that suits your needs and elevates your home's curb appeal. The different types of garage door styles offer unique characteristics that can impact the overall look of your home. Broadly, these styles can be categorized into two main categories — traditional and contemporary.
Traditional Garage Door Styles
The traditional garage door style is ideal for homes with a classic architectural heritage, such as Colonials, Cape Cods and other styles that have stood the test of time. These architectural designs inspire traditional overhead garage door styles and often exude a timeless and conventional charm.
Let's explore some of the most common traditional garage door styles in more detail.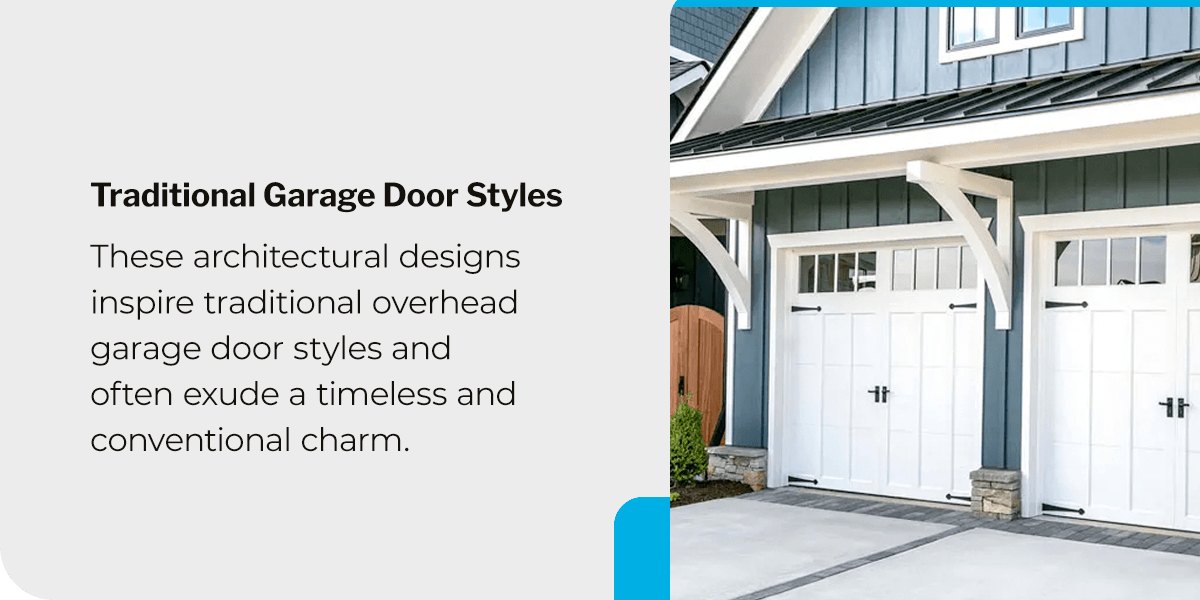 1. Classic Raised-Panel Garage Doors
Classic raised-panel garage doors are the most popular garage door style. These garage doors are versatile choices that can enhance the curb appeal of a wide range of home styles. Here are some key characteristics and details about these garage doors:
Symmetrical design: Classic raised-panel garage doors are known for their symmetrical layout. They feature a series of rectangular panels that are evenly spaced and raised, creating a sense of depth and texture on the door's surface.
Clean lines: These garage doors exhibit clean and orderly lines, making them suitable for homes with traditional, Colonial and other classic architectural styles.
Material variety: You can find classic raised-panel garage doors crafted from various materials, including wood, steel and composite materials. This range allows homeowners to select materials that suit their preferences and maintenance requirements.
These versatile doors complement various architectural styles, including Colonial, Georgian, Cape Cod and other traditional American homes. They provide a timeless and understated appearance that can enhance the curb appeal of these classic property types.
2. Carriage-House Garage Doors
Carriage-house garage doors draw inspiration from the charming design of historic carriage houses, which were once used to store horse-drawn carriages. These garage doors offer a nostalgic and rustic appeal while incorporating modern functionality. Here are key characteristics and details about carriage-house garage doors:
Faux swing-out appearance: Carriage-house doors typically feature a design that mimics the look of traditional swing-out doors. They often have decorative hardware like handles and hinges to enhance the illusion. However, modern carriage-house doors operate like traditional overhead garage doors for convenience.
Distinctive paneling: These doors often have distinctive paneling or sections that can vary in design, such as crossbuck patterns, X-shaped overlays or recessed panels.
Wide variety: Carriage-house garage doors come in many styles, from rustic, weathered appearances to more refined and contemporary designs.
Carriage-house garage doors are especially well-suited for homes with architectural styles that embrace a sense of nostalgia, character and rustic charm. They complement the following architectural designs:
Tudor: Carriage-house doors pair perfectly with the storybook-like charm of Tudor-style homes, adding to their whimsical appeal.
Colonial Revival: These doors are an excellent match for Colonial Revival homes, emphasizing this architectural style's historical aspects.
Farmhouse: Carriage-house garage doors contribute to farmhouse-style homes' rustic and inviting atmosphere, enhancing their cozy and welcoming exterior appearance.
3. Craftsman-Style Garage Doors
Craftsman-style garage doors are inspired by the Arts and Crafts movement, which emerged in the late 19th and early 20th centuries. These doors are characterized by their emphasis on simplicity, craftsmanship and attention to detail. Here are key characteristics and details about Craftsman-style garage doors:
Horizontal emphasis: Craftsman-style garage doors often feature horizontal lines and flat panels. The design emphasizes the horizontal rather than the vertical, creating balance and visual appeal.
Subtle ornamentation: While Craftsman doors are known for their simplicity, they may include subtle decorative elements such as square or rectangular windows with divided lines — panes of glass separated by muntins — adding character and charm.
Quality materials: Craftsman-style garage doors are crafted from high-quality materials like wood. The wood may be stained to highlight its natural grain or painted in earthy tones that complement the overall style.
Craftsman-style garage doors perfectly match homes with Craftsman, Bungalow, Prairie and Arts and Crafts architectural styles. They help maintain a cohesive and visually pleasing exterior that aligns with the principles of the Arts and Crafts movement.
Contemporary Garage Door Styles
Contemporary garage door styles embrace sleek minimalist designs well-suited to modern architectural trends. Here's a closer look at some of the prominent contemporary and modern garage door styles.
1. Modern Flush Garage Doors
Modern flush garage doors reflect contemporary design principles, prioritizing clean lines, minimalism and simplicity. Here are key characteristics and details of modern flush garage doors:
Smooth, flat surface: Modern flush garage doors have smooth surfaces without raised panels or ornate designs. This creates a clean and streamlined look that is free of unnecessary detailing.
Minimalistic hardware: These doors often feature minimal or hidden hardware, further contributing to their minimalist appearance. Handles, hinges and other hardware components are often understated or concealed.
Contemporary materials: Modern flush garage doors can be constructed from various materials, including steel, aluminum, glass and composite materials. The choice of material can impact the door's durability, maintenance needs and overall appearance.
Large glass panels: Some modern flush doors incorporate large glass panels to maximize natural light in the garage and create a sense of transparency between indoor and outdoor spaces.
Modern flush garage doors are designed to complement modern and contemporary architectural styles, emphasizing simplicity, open spaces and industrial materials. They are an ideal choice for homes with the following architectural designs:
Modern: Modern flush garage doors naturally harmonize with modern homes, where clean lines, large windows and a focus on minimalism are key design elements.
Contemporary: Contemporary homes often feature innovative designs and unconventional shapes, making modern flush garage doors an excellent fit for their sleek and cutting-edge exteriors.
Industrial: These homes are characterized by exposed steel beams and concrete elements, which benefit from modern flush garage doors' simplicity and industrial materials.
Minimalist: Minimalist homes, as the name suggests, thrive on simplicity, and modern flush doors perfectly align with their designs.
2. Glass and Aluminum Garage Doors
Glass and aluminum garage doors are a striking and contemporary choice characterized by their sleek and transparent appearance. Here are key characteristics and details about glass and aluminum garage doors:
Transparency: Glass and aluminum garage doors feature large glass panels that allow natural light to flood the garage interior. This transparency creates a sense of openness and connection between indoor and outdoor spaces.
Aluminum frame: The door's frame is typically made of aluminum, which is lightweight, durable and corrosion-resistant. Aluminum frames are available in various finishes, including anodized, powder-coated and painted options.
Customizable design: Homeowners can customize the design of glass and aluminum garage doors to suit their preferences. Options include various glass types, tints and patterns, allowing for creativity and personalization.
Modern hardware: These doors often feature modern and minimalistic hardware components, such as hidden handles and hinges, to maintain a sleek and streamlined appearance.
Glass and aluminum garage doors are designed to complement modern and contemporary architectural styles that emphasize open spaces, clean lines and the use of industrial materials. They are a perfect match for modern, contemporary, industrial and minimalist homes.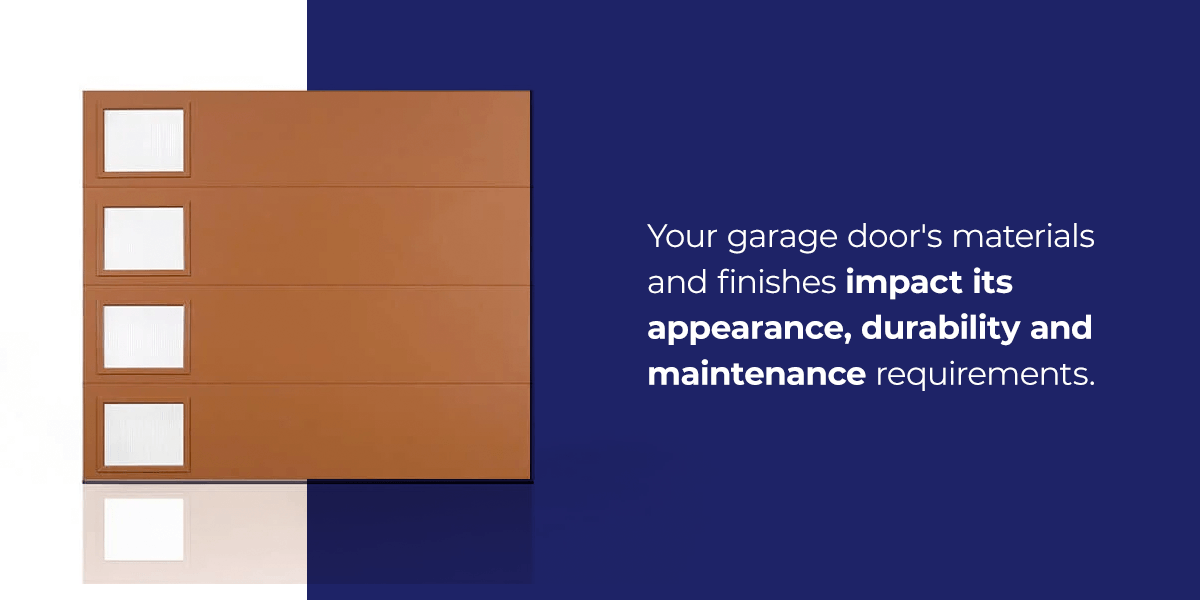 Garage Door Materials and Finishes
Your garage door's materials and finishes impact its appearance, durability and maintenance requirements. Here's an overview of the materials commonly used for garage doors, along with information about finishes:
1. Steel Garage Doors
Steel garage doors are known for their durability and security. They are made of steel panels and come in various design options, including raised panels, flush designs and embossed textures. They are factory-finished with a durable paint coating that can be customized to match your home's color palette. These finishes are designed to resist fading and weathering.
Steel garage doors are low-maintenance and require occasional cleaning with mild soap and water to remove dirt and debris. The factory-applied finishes help protect against rust and corrosion.
2. Composite Wood Garage Doors
Composite garage doors combine natural wood's appearance with synthetic materials' durability. They often have a steel or fiberglass core overlaid with a wood-like composite.
Unlike natural wood, composite and faux garage doors are highly resistant to moisture, rot and insect damage. They are low-maintenance and typically require only occasional cleaning with mild soap and water to maintain their appearance. Stains are available in various colors and can be customized to match your home's exterior.
Garage Door Colors and Stains
Paint colors for garage doors allow homeowners to customize the appearance of their garage doors to complement their home's exterior style. Here's a closer look at the options and considerations:
Classic white: White garage doors offer a clean appearance that suits various architectural styles. They create a bright and welcoming facade.
Neutral tones: Shades of beige, cream and gray are versatile and provide a neutral backdrop for other design elements.
Earthy hues: Earthy colors like brown, taupe or olive green can add warmth and a natural feel to your garage door, particularly suitable for homes with rustic or cottage-style designs.
Bold colors: Some homeowners make a statement with vibrant colors like red, blue or green. These bold choices can add personality and flair to your home's facade.
Paint Options
When selecting a paint color for your garage door, try to pair the garage door color with the rest of your home's exterior to create a unified look. Additionally, paint can be used strategically to highlight the architectural features of your home. For example, choosing a complementary color for your garage door can draw attention to its design or create a focal point.
Before deciding on paint colors, obtaining paint samples or swatches and testing them against your home's exterior in various lighting conditions is a good idea. This will help you visualize how the colors look and ensure you're satisfied with the final result.
Stain Options
Staining is a finishing technique commonly used for composite or wood garage doors. It involves applying a pigmented or translucent stain to the surface to enhance its natural beauty, color and grain patterns while providing protection.
Wood tones: Various stains, such as honey oak, cherry or walnut, can bring out the material's unique grain patterns and colors.
Dark stains: Dark stains, such as espresso or ebony, create a rich and dramatic appearance for wood garage doors. They can add depth and contrast to your home's exterior.
Gray and whitewash: Gray and whitewash stains have gained popularity for creating a weathered, rustic or coastal look. These finishes can evoke a sense of character and charm.
Staining offers several advantages when it comes to wood garage doors:
Natural beauty: Staining accentuates the grain patterns, knots and textures, giving the material a rich and authentic appearance.
Versatile color options: Stains are available in light, natural tones or deep and rich shades.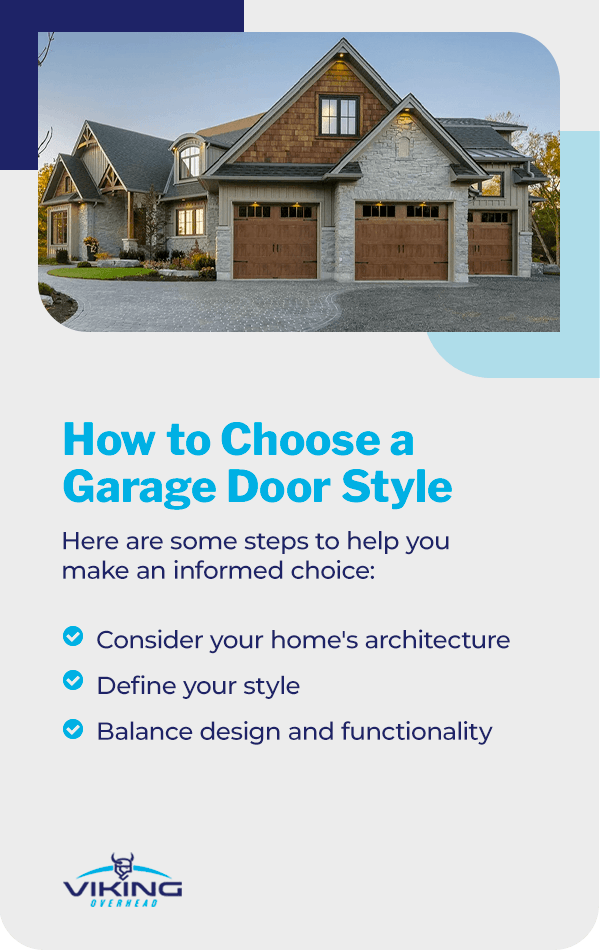 How to Choose a Garage Door Style
Selecting the right style of garage doors is a crucial decision that can enhance the overall appearance of your home's exterior. Here are some steps to help you make an informed choice:
Consider your home's architecture: Begin by examining the architectural style of your home. Take note of its design elements, including rooflines, windows and exterior materials.
Define your style: Your personal taste and preferences play a significant role in decision-making. Are you drawn to classic, timeless designs, or do you prefer a sleek and contemporary look?
Balance design and functionality: While design is important, don't overlook the functional aspects of a garage door. Consider factors such as insulation, security features and ease of operation.
Find Your Perfect Garage Door at Viking Overhead
Selecting the perfect garage door style is a decision that adds value and character to your home.
At Viking Overhead, our knowledgeable sales team is committed to guiding you through the selection process, helping you find a garage door style that seamlessly complements your home's appearance while providing long-term protection against the elements. Our installation services feature the finest garage door and opener brands, including Clopay®, Chamberlain and LiftMaster, ensuring your investment is built to last.
Get started by scheduling an appointment with us today.